There was an app you could download for the iPhone where you could shake your virtual baby to death? Wtf, really?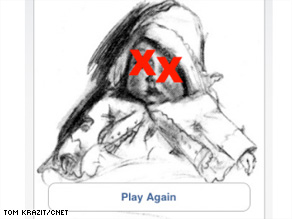 WOAH, really.

Apple apologizes for Baby Shaker
(CNET) — Apple issued a statement Thursday apologizing for allowing the Baby Shaker application onto the App Store. Baby Shaker was "deeply offensive and should not have been approved for distribution," Apple statement says . .
Baby Shaker appeared on the App Store Monday, and was pulled Wednesday after a media frenzy grew following the discovery of the application by the founder of a shaken baby syndrome foundation.
Apple's statement follows in its entirety:
"This application was deeply offensive and should not have been approved for distribution on the App Store. When we learned of this mistake, the app was removed immediately. We sincerely apologize for this mistake and thank our customers for bringing this to our attention."
The company refused to comment on the process that led to the approval of Baby Shaker as an iPhone application. The day it revealed the software development kit for the iPhone last year, Apple said it planned to review every single iPhone application submitted for inclusion on the App Store, and reject applications that violated certain guidelines for porn, spam, or other offensive content.
_______________________________________________________________
UPDATE: "Yes, the Baby Shaker iPhone app was a bad idea," according to a note on the Web site for
Sikalosoft, which created Baby Shaker. "You should never shake a baby! Even on an Apple iPhone Baby Shaking application."
Sikalosoft stressed that Apple approved its app, but acknowledged that it was in poor taste.
The app allows people with iPhones to download an image of a baby, which they then shake to death. It has since been pulled.
"There are currently over 30,000 iPhone applications out there. So, there are many other iPhone applications you could be better spending your time and money on," Sikalosoft continued.

Isn't the target audience for iPhone apps folks in their teens and earlier twenties? Yeah–that was a very bad idea.