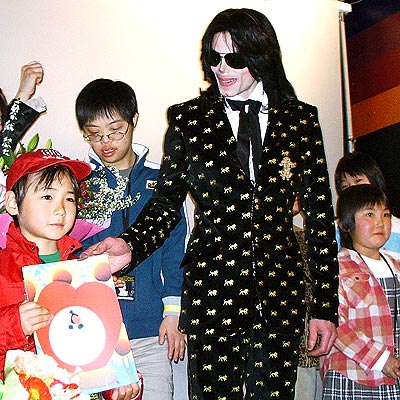 I'm not going to try to talk sense to any more of you fame-lamed zombies on the other thread (Do not bother to mourn Michael Jackson…). You can all just demonstrate your brilliance by tackling this new post.
You all seem to know for sure that the wholly bizarre superstar, Michael Jackson, was not at all the unrepentant criminal he appeared to be, you're all so much smarter than all the unfortunate people who have first-hand experience witnessing the behavior of child molesters. Well, then, you rigid apologists can certainly handle these questions. Should be a piece of cake for you wise old students of human nature:

If Micheal Jackson was not a child molester…

1.) Why did so many people accuse him of being one?
Pretty simple question. You guys think the accusers are greedy–if they wanted to victimize the poor innocent guy and make a bundle, the jerks had to make something up, right? Why was it always child molestation? Just about the most lurid, disgusting thing imaginable? It might be the hardest thing to prove because it's so unbelievable, so disturbing.
Tommy Lee, Alec Baldwin settled assault cases, George Harrison, Billy Joel settled plagiarism cases. Libel, slander, negligence, harassment, take your pick. But child molesting is a typically easy, frivolous and successful case to press? Really? And someone will do this even though they'll be forever known as a sex-crime victim? Really?
This is the bottom line: it's the STUPIDEST thing to make up out of thin air because NO CELEBRITY WILL EVER SETTLE THE CASE. It's too awful, too damaging, too destructive–it has to be fought tooth and nail, destroyed. A guaranteed war.
Which obviously brings up the next question…
2.) Why would he settle those cases?
At least three cases. I can't imagine any person in the world wrongly accused of child molestation ever choosing to settle. Any case. Ever. No matter what. I would choose to throw my career away if I could press any allegation to the ragged ends of the Earth and reclaim my good name. But not the most famous guy on the planet? Even keenly aware that everybody will know that he paid off the alleged victims? Fight for your good name vs. publicly paying off the money-grubbing liars: what's the problem? It's a no-brainer. Unless you're guilty. And then it's the opposite no-brainer.
3.) Why did he sleep with others' children?
Don't give me the 'innocent' or 'harmless' bullshit. No typical adults ever want to do this. Men especially, for obvious reasons, but he did it over and over again. It's insane.
Jackson: "It's very right. It's very loving, that's what the world needs now, more love more heart."
Bashir: "The world needs a man who's 44 who's sleeping in a bed with children?"
Jackson: "No, you're making it – no, no you're making it all wrong …"
Bashir: "Well, tell me, help me …"
Jackson: "Because what's wrong with sharing a love? You don't sleep with your kids? Or some other kid who needs love who didn't have a good childhood?"
Bashir: "No, no I don't. I would never dream …"
Jackson: "That's because you've never been where I've been mentally …"
Bashir: "What do you think people would say if I said well – 'I've invited some of my daughter's friends round or my son's friends round and they are going to sleep in a bed with me tonight'?
Jackson: "That's fine!"
No, that's not fine.
4.) Why was he 'grooming' children?
"Child grooming, in the context of this article, refers to actions deliberately undertaken with the aim of befriending and establishing an emotional connection with a child, in order to lower the child's inhibitions in preparation for sexual abuse.
"Examples of activities sometimes used as part of child grooming
* Taking an undue interest in someone's child (having a 'special' friend)
* Giving gifts or money to the child for no apparent reason
* Showing pornography to the child
* Talking about sexual topics
* Hugging, kissing, or other physical contact even when the child doesn't want this attention
* Talking to the child about problems that would normally be discussed between people of the same age or more commonly, adults (e.g. marital problems)
* Becoming good friends with the child's parents in order to gain easy access
to their child (e.g. Babysitting)
* Looking for opportunities to have time alone with the child.
* Inviting the child over for sleepovers or sleeping in the same room or bed with someone else's child."
That's a perfect description of Jackson's private life. Hell, his public life, too. Nobody who isn't a child molester behaves like this, it's disturbing.
5.) After narrowly escaping being found liable in the '94 Chandler case, why did he return to his unsavory, child-obsessed life?
Why would an innocent man publicly return to the disturbing behavior that nearly destroyed him and everything he had accomplished? If he knew that greedy criminals could make up and press a wholly groundless case based upon the mere appearance of a child obsession, why again prop up the appearance of a child obsession? If the whole fiasco was the worst, most wrenching event of his life, why wouldn't he try to avoid a second episode?
"It was a nightmare, a horrifying nightmare."–Jackson
…but a second episode followed. And this time it resulted in a criminal case. The guy was also a brilliant businessman and savvy mega-millionaire, but this was somehow a sensible decision?
6.) Why couldn't he have relationships with adult women?
…or adult men, for that matter, or anyone? Gay, straight, whatever. How does anyone carry out a life entirely absent any romantic or sexual interest? Especially a giant, famous life–everybody else like that turns that to their advantage, they choose to have as many partners as they like, or they get the best looking, or richest or most famous.
Michael chose…nobody? Does anybody buy that? The two icons he's being currently compared to in American life are Frank Sinatra and Elvis Presley. Those two dudes went through hundreds, maybe thousands of women.
But this is who he 'married'? This was his passion, the cherished mother of his children?
Although [Rowe] also cited irreconcilable differences as a reason for their divorce in 1999, on 4/27/05 she testified at the Michael Jackson trial that "[we] never shared a home; we never shared an apartment."

She also stated that she had not seen her children in more than two years. Debbie had been limited to seeing her children only every 45 days, and then for only eight hours under the supervision of a nanny.
Heck, it almost sounds like he doesn't really like the mother of his children. Sounds as if he'd rather keep her out of his and his kids' lives.

And those are but a few of the dozens of questions I could ask that no one could possibly answer: Why couldn't he recognize typical parents' concerns for the children around him? Why did he have to be with children alone, away from their parents? Why did he have to have sleepovers? Why did he keep such a large porn stash around? Why did he give 'Jesus Juice' to teens? Why did his bedroom have an alarm to warn him about people walking down the hall? Why was he a lifelong drug addict?
Of course anyone who refuses to pull his head out of the superstar's ass can't answer these questions. Even though there's a particularly simple truth here: The guy was a child molester. That's the one answer that explains it all.
Which leaves us with the final question: Why can't you admit it?